SweetBerries Gainesville on 5th Ave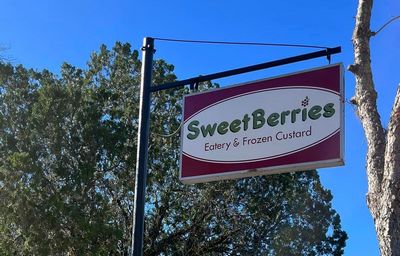 619 NW 5th Avenue
Gainesville, FL 32601
Updated Hours:
Sun, Mon, Wed, Thurs: 11:00 am to 6:00 pm
Fri, Sat: 11:00 am to 8:00 pm (New!)
Closed on Tuesdays
(Check back later for permanent hours
when we are fully staffed.)
We are located at the corner of NW 6th Street and NW 5th Avenue.
<< Sep
Nov >>
October 2023
Sun

day

Mon

day

Tue

sday

Wed

nesday

Thu

rsday

Fri

day

Sat

urday
Contact SweetBerries Gaines­ville
Submit the form below to send an email to the owners of SweetBerries Gainesville about the NW 5th Ave location.
Gainesville Job Application
Interested in working at SweetBerries in Gainesville?
We are always looking for talented and enthusiastic people to join our team!
Print a copy of the application and bring your completed application to one of our two Gainesville locations:
619 NW 5th Avenue, Gainesville FL 32601
Campus Location: 1700 Stadium Rd, Gainesville FL 32603