SweetBerries Gaines­ville – UF Campus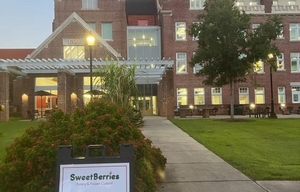 1700 Stadium Rd
Gainesville, FL 32603
Hours of Operation:
Monday – Friday (except holidays)
Breakfast: 7:30 am to 11:00 am
Lunch: 10:30 am to 4:30 pm
Stop by our UF Campus location in front of Newell Hall and try one of our breakfast sandwiches. Or come for lunch and get one of our SweetBerries Eatery and Frozen Custard signature sandwiches and side. We look forward to serving students, faculty, staff, vendors, and visitors to the UF Campus!
<< Jan
Mar >>
February 2023
Sun

day

Mon

day

Tue

sday

Wed

nesday

Thu

rsday

Fri

day

Sat

urday
Contact SweetBerries Gaines­ville
Submit the form below to send an email to the owners of SweetBerries Gainesville about the UF Campus location.